YOGA MATTERS – March 2017
Review on Organica Chocolate Range
http://www.yogamatters.com/blog/a-world-of-chocolate/
---
GINGER KITCHEN – November 2016
Review on Geo Organic Indonesian Satay Paste
http://www.gingerkitchen.co.uk/2016/11/vegan-favourites-2.html
This is the second curry paste I've tried by Geo Organics (the first was their red Thai curry paste, which is so good: recipe here) and it did not disappoint. In fact, it is so good I've been telling almost everyone I know about it. I made a curry using the paste, coconut milk, tofu, courgettes and carrots and it was out of this world, I've been dreaming about it ever since. All of Geo Organics' products are vegan, organic and made with ingredients you will recognise. I can't wait to try more of their range and will most definitely be stocking up on the satay paste.
---
LIVE LEAN HEALTH- September 2016

https://liveleanhealth.com/vegan-up/
Most people are familiar with this awesome brand and I was for some of their produce, but the show allowed me to learn more about them! First of all they are fully organic and secondly, they are fully vegan!
The business has been around for over a decade and it is impressive how this husband and wife keep on creating amazing food suitable for a healthy plant based lifestyle!
If you, like me, love Green Thai but struggle to get it without fish sauce anywhere then do not fear! Geo has a great range of sauces, including green Thai that are perfect and I checked the ingredients: NO NASTIES! Nothing bad in there at all! The best place to purchase their products is Goodness Direct though some of their products are available at Waitrose or health food stores! You want to know something cool? They have white chocolate! How many times can we find vegan white chocolate?
---
VIVA! LIFE – August 2016
http://www.viva.org.uk/resources/vivalife/vivalife-issue-62
Geo Organics Vegan Mayo
No self-respecting BBQ'd veggie burger sgould be eaten without a creamy dollop of Geo Organic's new range of vegan mayonnaises. These tange eggless mayos taste like the real deal and are made from a blend of sunflower oil, apple cider vinegar, mustard seeds and a touch of agave syrup. Soya-free. Choose from Original (£2.19) and Chilli (£2.25) each 232g.
---
THE VEGAN SOCIETY – August 2016
https://www.vegansociety.com/whats-new/blog/10-best-vegan-picnic-foods
Geo Organics Apple, Apricot and Ginger Chutney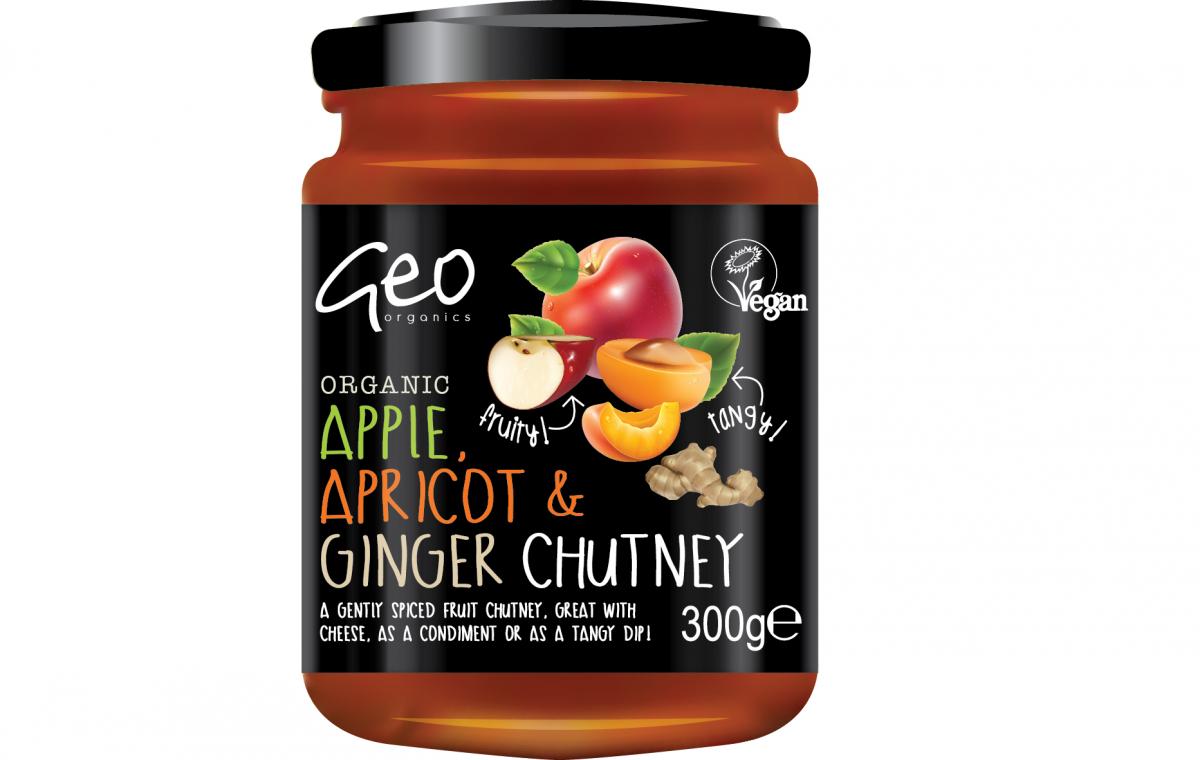 With cheese and crackers on this picnic menu, there's only one thing missing: chutney. Geo Organics have the perfect solution with their Apple, Apricot & Ginger Chutney. Its sweet, tangy and gently spiced flavour pairs well with vegan cheese to complete any cracker combo. Find it online or have a look in your local health food store.
---